ATTRACTIVE PRICES
Purchase price list
Effective as of 01/07/2023
Propolis

3 kg and more
56,5 EUR / kg
1st class *)
46-54,5 EUR / kg
2nd class*)
less than 3 kg
54,5 EUR / kg
1st class *)
43,5-52 EUR / kg
2nd class *)

Pollen

for propolis suppliers
7 EUR / kg
transfer payment
For others
6,5 EUR / kg
transfer payment
Wax

for propolis suppliers
6,5 EUR / kg
transfer payment
For others
5,4 EUR / kg
transfer payment

*) 1st class: less than 35% of wax and other impurities, 2nd class: 35% – 50% of wax and other impurities. In the case of propolis polluted more than 2nd class, we return the goods or set an individual price with the consent of the beekeeper;
Due Date
We pay within 7 days by bank transfer.
Shipment
Please deliver the goods to the address: PROKIT – Miłosz Górecki Kazimierów, ul. Świętokrzyska 23 05-074 Halinów, Poland Please attach a card with your name, surname, address, account number and telephone number to the shipment. Please put the card inside the package.

SELL US YOUR PROPOLIS
Purchase of propolis
We have been purchasing and selling propolis since 1996. We also purchase wax and pollen. We cooperate with beekeepers not only from Poland, but also from other European countries. We offer clear and profitable conditions of cooperation, we provide advice, especially to beginner beekeepers. If you are thinking about starting a sale of propolis from your apiary, it is advisable to contact us. We share our knowledge and wide experience. All you have to do is send us your application, then prepare your shipment according to the guidelines below. We pay within 7 days of receiving the goods. We invite beekeepers from all over Europe to cooperate.
BEFORE YOU SEND
Rules for purchasing propolis
1
Parameters
Propolis should meet the standard of minimum 50% solubility in spirit. Propolis should be dry. If the moisture content exceeds 70%, the goods are dried before weighing.
2
Health
Antibiotics or other drugs not approved for use in Poland should not be used in the apiary – especially those from outside the EU (e.g. Ukraine), as they may contain antibiotics.
3
Packaging and quality
A single delivery may contain goods from several apiaries, but must be separated from each other (e.g. in separate bags). In case of very poor quality, the goods are returned to the supplier at Prokit's expense.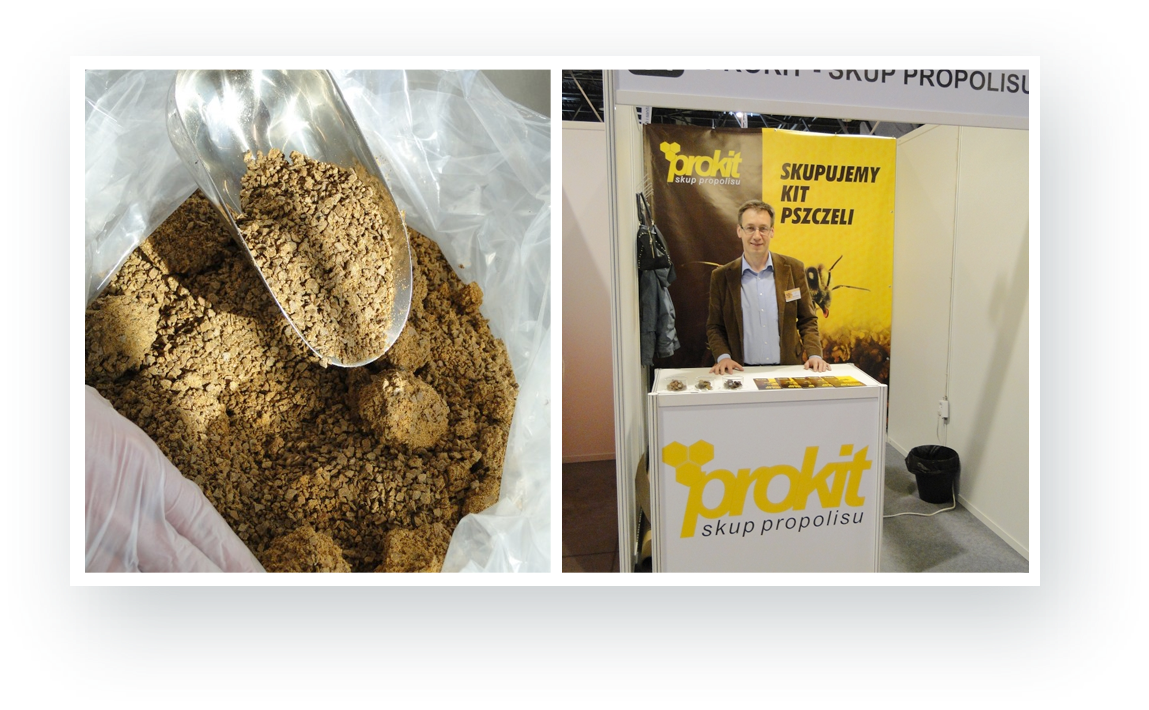 WE OFFER PURCHASE AT UNION MEETINGS
Priceless propolis
We are happy to come to the beekeepers to carry out the purchase on site.
We invite for cooperation!